CIRCULAR

 BUSINESS

The Dutch government published in 2016 'The Netherlands Circular in 2050' program. The government wants to realize a circular economy for the Netherlands with this program. Since 2019, we have been the specialist supplier and partner in sustainable circular shipping and packaging materials in the integral logistics chain of the international flower and plant sector.

We offer a total service. It is possible to provide the packaging materials with a company logo. With our total service you can achieve the social objective of your organization and as an organization you can contribute to the realization of a circular economy. In addition, the circular materials can be used to encourage extra sales to the consumer.

Do you want more information about how you, as an organization, can use our products to help realize a circular economy? Contact us now!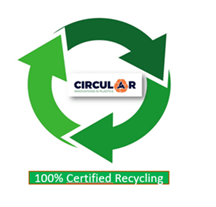 ---
MISSION
We introduce Sustainable solutions since 2019 as an innovative standard in the integrated logistics chain of the international flower and plant sector within our vision of a Circular Economy. We encourage reuse within a closed cycle where products are frequently collected, reused and continuously recycled with modern upcycling techniques.
---
SUSTAINABILITY
Sustainability is about the balance between attention for people, nature and the environment (planet) and the continuity of the company (profit). The 3 p's: 
---
CIRCULAR ECONOMY
On September 14th 2016, the Dutch government published the "Netherlands Circular program in 2050". With this program, the government wants to realize a circular economy. In a circular economy, raw materials are kept longer in the chain and with higher quality instead of being discarded after (one-off) use. Economic preservation of value and the creation of new value are central. We use the rule: less use of raw materials and packaging materials means less environmental impact in the product value chain. In order to create a circular system, a priority ranking of actions can be taken into account. 
---
CORPORATE SOCIAL RESPONSIBILITY
CSR means a continuous consideration between People, Planet and Profit. A uniform or best approach is missing. Every organization has its own CSR profile. The CSR activities are for each company different. The Company size, sector, company culture and business strategy play a role in this. The goals that are pursued change over time and with every business decision. CSR has seven key topics.